Every state in the US requires some level of evidence-based support for any curriculum used in our schools. In some ways, this makes a lot of sense. We want our schools to use what has been proven to work. But there is a challenge. How do we explore new methods that might be better than what we have done, and studied, before?
The Department of Education has a great answer in their recent call for "Transformative Research in Education Sciences". Here is exactly what they are looking for:
This program supports innovative or unconventional research that has the potential to lead to new scientific paradigms, novel and more effective approaches to education practice or policy, or transformative technologies that substantially increase learner outcomes.

IES Transformative Research in Education Science

asdasds
Why is this the focus? What about the existing programs in place? Shouldn't we focus on scaling what the evidence supports as current best practice?
A Legacy of Stagnant Literacy Scores Drives the Need for Transformative Change
Only about 35% of children read at or above grade level from first grade onward, and the rest almost never catch up.The economic impact of illiteracy is billions of dollars a year, with a huge impact on health and health costs, and a disproportionate effect on students coming from low-income communities. It's the reason for school dropouts and limited economic futures.
All of this has been compounded by the Pandemic. A McKinsey study shows that since school disruptions began in Spring of 2020, there has been a big backslide in learning, especially among students of color, which is only anticipated to get worse.

The Institute for Education Sciences (IES), the nation's leading resource for rigorous, independent education research, is trying to combat the problem by continually looking for ways to improve learning outcomes for all students.
A World Class Research Plan
The request from IES calls for bold solutions, and TIPS™ delivers. We have developed the most innovative and revolutionary way to teach kids to learn to read, based on the substantial body of research that shows how students learn to read years faster in languages that are less complex. Early pilots of our work have clearly demonstrated the transformative potential of teaching children to read with TIPS™. Here is a graph summarizing the improvement after just 6 weeks of intervention: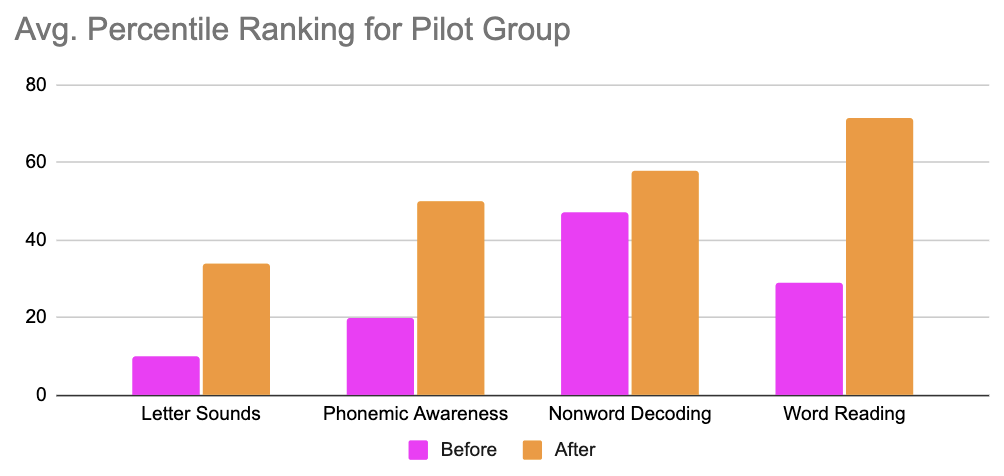 Research Approach
The grant will enable research to examine the impact of the TinyIvy program on student reading outcomes. The first 2 phases of the study will be exploration and evaluation.


A Brilliant Research Team
The innovative model put forth by TinyIvy, and the potential transformational impact of the solution, has brought together world class institutions to drive this research: Johns Hopkins Center for Research and Reform in Education (CRRE) and Stanford's Educational Neuroscience Initiative. Our work is guided by the theoretical underpinning of Dr. David Share, whose carefully considered work on the self-teaching principal and English orthography have shaped the fundamental understanding of how children learn to read world-wide, and from a policy perspective by Marc Tucker, past CEO and president of the National Center on Education and the Economy, and a recipient of the James Bryant Conant Award from the Education Commission of the States for his outstanding individual contribution to American education.

The team assembled is the right team to fundamentally transform the future of reading in the US. It brings together the powerful research and dissemination platforms of two of the world's top organizations, with the innovation, product-centric, scaling mindset of a proven team of entrepreneurs. We are proud to be working with:

Dr. David Share
Project Role - Advisory Board
Department of Learning Disabilities
University of Haifa, Israel
Orthography, dyslexia and theories of universal reading acquisition.
B.Sc. (Hons.) University of N.S.W., AU, Ph.D. Deakin University, AU
Neil Hamilton Fairley Fellow

Dr. Amanda Inns
Project Role - Co-Principal Investigator
Assistant Research Scientist at the Center for Research and Reform in Education at Johns Hopkins University
Literacy, meta-analysis, quantitative research design, data management
Ph.D., Johns Hopkins University, M.Ed., Peabody College, Vanderbilt , B.A., Northwestern University

Dr. Steven Ross
Project Role - Co-Principal Investigator
Instructional Designer at the Center for Research and Reform in Education at Johns Hopkins University
Educational technology, at-risk learners, educational reform, extended learning time programs and research & evaluation
B.A., M.S., Ph.D. The Pennsylvania State University

Dr. Bruce McCandliss
Project Role - Research Lead
Professor, Graduate School of Education, Stanford
Brain and learning sciences, literacy development, innovative research methods
Ph.D. University of Oregon
B.S. Michigan State University, M.S. University of Oregon, Ph.D. University of Oregon

Dr. Rebecca Silverman
Project Role - Advisory Board
Head of Language to Literacy Lab
Associate Professor at Stanford
Literacy development and instruction of early childhood and elementary age children from diverse backgrounds.
Ed.D., Harvard University, Ed.M., Harvard University, B.A., George Washington University

Marc Tucker
Project Role - Advisory Board
Founder, Past President and CEO National Center on Education and the Economy
Education policy, standards-driven reform, high performance strategies
B.A. Brown, M.S. George Washington University
James Bryant Conant Award
A Call for New Perspectives
Unique to this grant request, IES is looking for solutions that "may require perspectives and experiences not typically represented in education research, and for that reason, applications are sought that reflect the full diversity of the nation's research workforce."
This is clearly the case at TinyIvy, which began as a simple exercise of a father making it easier for his son to read, that led to the innovation and potential transformative change possible with TIPS™.


"Insanity is doing the same thing over and over again and expecting different results."

That's Albert Einstein's (or Ben Franklin's or Mark Twain's) definition of insanity: banging your head over and over on a brick wall instead of switching to a pillow. Teachers know it is incredibly hard to teach every child in their classroom, or in their school, to read. Yet we are using the same techniques to teach a complicated phonics system that we have been using for the past twenty years. But the case for trying something different has grown incredibly strong.

TOP 10 Reasons Why TIPS Revolutionizes Reading Proficiency
TIPS:
drastically changes the duration and complexity of reading instruction, and has the potential to yield years of progress in months of study.


reduces the cognitive load required of every student, which allows for greater focus on higher-level reading skills like comprehension and fluency.


allows teachers to spend more time on developing fluency in reading, which improves student success in all subject areas.


allows students to begin "reading to learn" almost immediately. With TIPS™, students are reading to learn to read. Think about it.


neutralizes the radical inequality of access to education. It levels the playing field so disadvantaged student populations can learn to read on an equal footing.


enables parents to engage - even where English isn't spoken in the home, parents can help their ELL children learn to read - and maybe even learn themselves.


enables children as young as 3 years old to begin to read.


becomes a reading intervention tool for those at any grade who are struggling, or are already far behind their classmates.


has a fundamental base in science, with mathematical algorithms determining frequency of sounds and frequency of words in the English language.


is designed to teach kids to read virtually, in a classroom, or in a homeschool setting.


Join Us in Our Goal of Changing the World!
The 21st century has seen huge innovations in technology; the fiction of 40 years ago is today's reality. If we can control our homes by talking into our wrist, land on Mars or have drone delivery, we can teach every child to read.

With TIPS, we are fundamentally transforming the process of early literacy education, leveraging the best science and designing a process to complement the way children's brains work, no matter what their background. If we can get all children reading by the end of first grade, imagine how much more kids can be taught, and kids can learn, as they progress through school. It is time to do something bold, something revolutionary. Something very simple.

We are looking for innovative and forward thinking educators, with classes Pre-K through G1, who are not afraid to try something out of the box where the traditional has not been successful. Sign up to be part of the research study, or sign up to get a jump start in your classroom!


Click RESEARCH if you want to joi
n Stanford, Johns Hopkins and TinyIvy and be part of our research study. You will receive the TIPS program free of charge for the duration of the study, including all materials, as well as teacher training in the system, professional development and on-going weekly support sessions.
Click TEACHERS if you want
to learn more about implementing the program in your classroom or school district.
Click PARENTS to learn how to integrate TIPS
into your child's
daily routine: 15 minutes, and they'll be reading in no time!